Share Your Love of Cruising!

October is Choose Cruise Month (formally Plan a Cruise Month)! Choose Cruise will see the entire cruise industry come together and promote cruising. We are inviting you to get involved and are giving you the tips and tools you need to help encourage your clients to plan a cruise, whether they are embarking on their first cruise or returning to a holiday at sea or on a river.
How can you be a part of Choose Cruise?
Access the Toolkit on the

Members Hub

and download relevant materials

Participate in our webinar and learn how to create effective marketing activities

Develop your marketing campaign and social media content calendar

Use the campaign logo in your email and printed communications.

Share the news on social media through Facebook, Twitter, Instagram and more.

Keep an eye on CLIA's social media for campaign updates

Ask the CLIA team for assistance
Key dates
Travel Agent Tool kit– LAUNCH 15 AUGUST
Travel agent webinars – 15 AUGUST & 5 SEPTEMBER
Official launch of campaign - 2 OCTOBER
Prize competitions / cruises & Breakaway Travelclub – 2 – 29 OCTOBER
Start of the Cruise Season / Choose Cruise Media gathering – 3 OCTOBER
Weekly themes
This year, Choose Cruise will once again have weekly themes:
Ocean Cruising: 2-8 October
River Cruising: 9-15 October
Luxury Cruising: 16-22 October
Expedition Cruising: 23-29 October
Travel Agent ToolKit
In the Travel Agent ToolKit, you will find assets to help you leverage this exciting campaign, including:
Media Materials and Infographics - Customisable press releases that you can send to local media.
Social Media Content – Customisable, pre-written posts to use on your social media pages (Facebook and Twitter).
Email – Customisable emails to send to your clients and prospects.
Logos and Visuals – Assets to brand your Choose Cruise marketing collateral and digital/social promotion
Infographics - Assets to use in your indsutry advocacy efforts
Marketing Activity Plan & Social Media Content Calendar Templates - Templates to use to assits with developing your campaign
Cruise Promotions
Details about special promotions and value-adds from CLIA Cruise Line Members will be live from 15 August in the Members Hub.
Travel Agent Prizes
CLIA is once again rewarding travel agents who customise and leverage the Choose Cruise campaign in creative ways. Throughout the month, CLIA will reward agents who share their online or off line Choose Cruise initiatives on social media have the chance to win $500 of Breakaway Travelclub vouchers and cruises for Hertiage Line and Coral Expeditions.
Participating Cruise Lines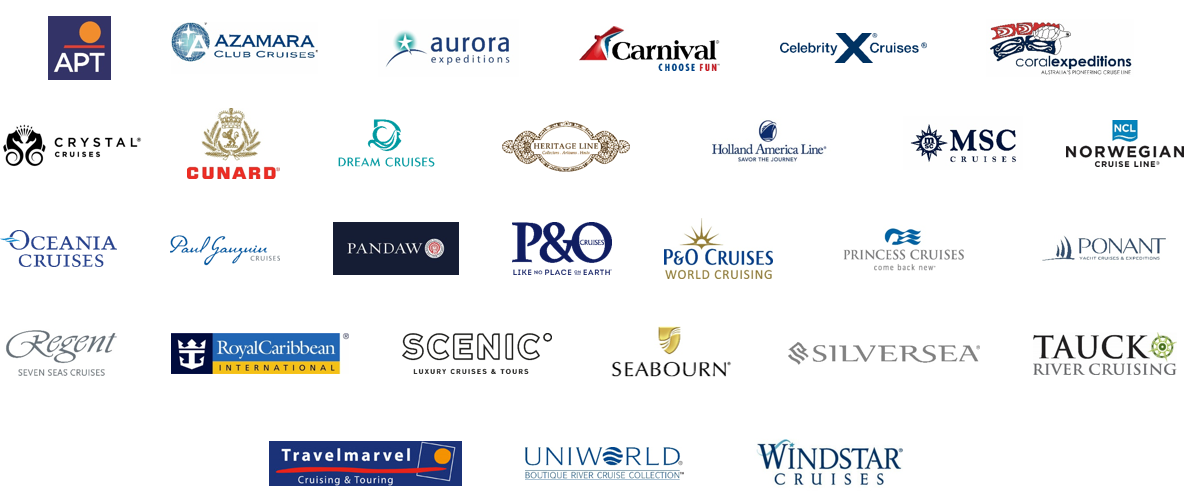 What our travel agent members say about Choose Cruise:
"There are many clients just waiting to have something 'out of the ordinary' offered to them, so Plan a Cruise Month gave us a great opportunity to be pro-active with new ideas and great pricing on a wide range of cruise holiday offers", Julie Marshall, Manager The Travel Studio, Gold Coast
__________________________________________________________________________________
"We think Plan a Cruise Month is a fantastic initiative to enlighten travellers on all the benefits and value to cruising. It has helped us reconnect with past cruisers and has enticed others to try cruising for the first time. We are grateful to CLIA for providing us with ongoing training and support", Heather Horley, Manager Ballina Cruise & Travel
__________________________________________________________________________________
"It has been a very busy but rewarding month and certainly not possible without the support from CLIA, the cruise lines and their amazing sales reps", Rochelle Clark from Dreamlines Australia
__________________________________________________________________________________
"We think the CLIA Plan a Cruise Month is an excellent initiative and one we have been supporting since its inception. We are very grateful for all the support given us by CLIA and the Cruise lines throughout the month which helps us improve local awareness of cruising and increase our sales" Nic Rone, Owner Cruise Holidays Gold Coast
__________________________________________________________________________________
"Cruise month seems to be working as we have bookings coming out of our earholes" Kim Earle, Consultant at Northshore Travel
__________________________________________________________________________________