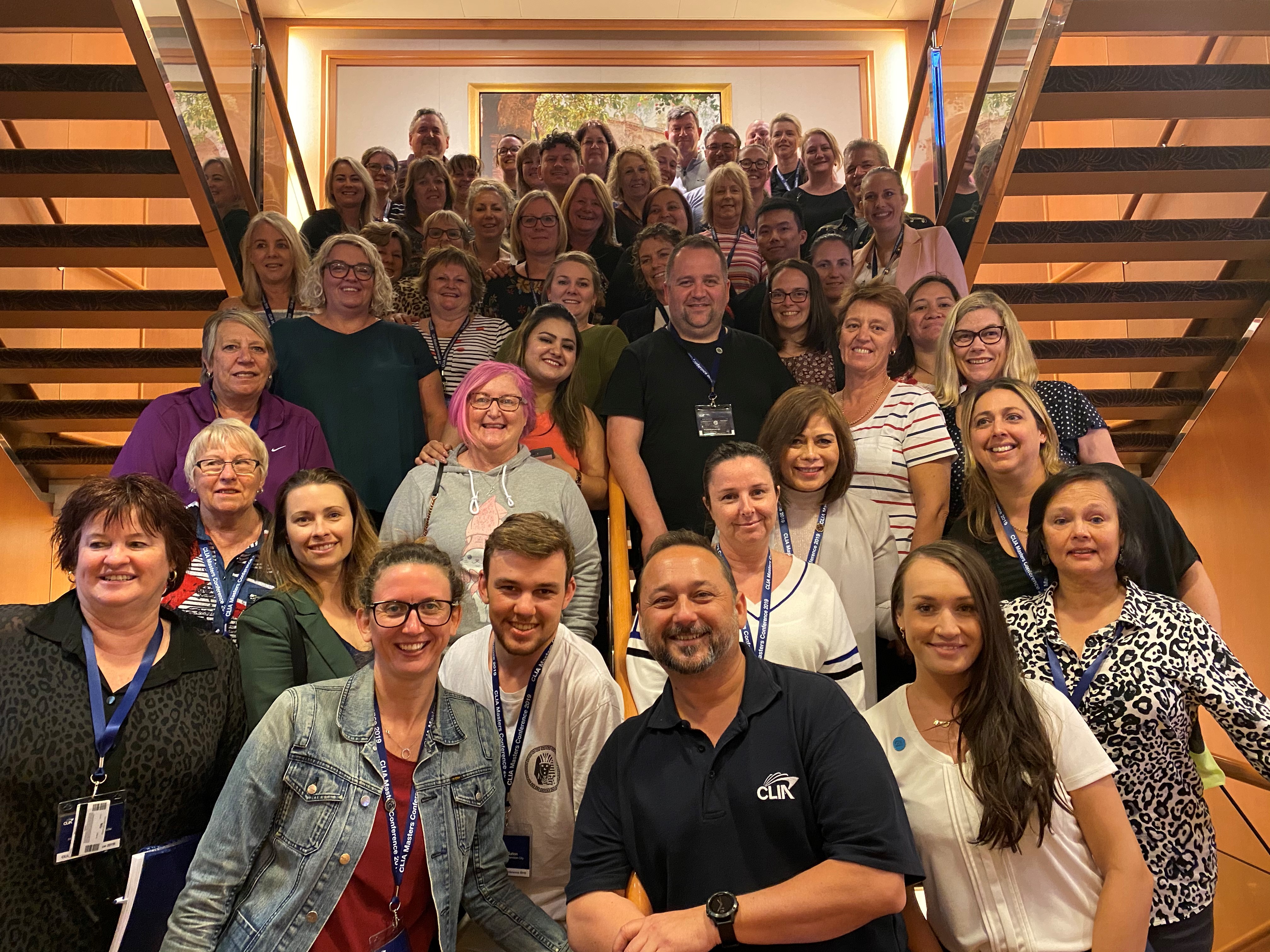 CLIA Masters Conference at Sea
The 2020 Masters Conference has not yet been announced. Please keep an eye on the CLIA Newsletter for details.
'I loved every moment of the Masters; it was one of the highlights of my 34 year travel career' Denise Fowler, The Travel Brokers Auckland
What is the Masters Conference?
CLIA Australasia Masters Conference is an opportunity for you to advance your cruise sales and marketing skills and reach the highest level of CLIA accreditation through instructor led classroom training, while cruising onboard a CLIA Cruise Line Member vessel.

Upon successful completion of the conference and follow-up assignment, you will receive the Masters accreditation, 100 CLIA points, and a higher ranking on CLIA's "Find Cruise Agent" website search.

Who can attend Masters?
Participation is open to any CLIA member who has achieved CLIA Ambassador status. Masters will benefit your career regardless of your role within the cruise industry. Topics covered are designed to inspire all levels of participation from front line consultants through to owners and managers
What topics are covered?
The Masters Conference includes 6 x 3-hour interactive and engaging classroom sessions.
Introduction and overview - you are not what you think you are!
Every industry including travel (and cruise) is going through change. The strong will survive and the weak will not....
Why are you in business?
What business are you really in?
Why should I do business with you?
Product Knowledge - what you really need to know.
You may know the nuts and bolts of your product but let's make it easy for your client...
Why sell cruises?
Elements of a cruise holiday
Types of cruise holidays
Breaking down the barriers - who is serving who?
Magnificent Marketing - what is the right way to be an effective cruise seller?
You don't need a university degree to understand marketing but many of us are afraid of it. From junior consultants to business owners understanding exactly what marketing is and how you can use it to benefit your career, your business and your personal life is a great asset to have.
The definition of marketing
Competitive trends
What is a niche?
Supplier relations
Retail trends
Marketing strategies
Putting it all together
Sales - not another sales seminar!
We are all taught to sell in a retail environment but do you have what it takes to really grow your sales and customer loyalty. We take your knowledge of the sales process and go deep, very deep. Infact deep enough that it takes you to a new level of sales that only our Master Agents have!
What really are the critical stages of the sales process?
Personality types
Styles of selling
Customer Service - would you buy from you?
If there is one area of your business that will have you stand out from your competitor - this is it.
Is 'good' really 'good enough'?
What are your customer's expectations?
Clients for life
Time Management - make more time to sell cruise holidays.
Everyone is guilty of spending a percentage of their day in an unproductive manner.
Manage your time effectively
What is a priority
Procrastination
Delegation
Life Planning - cruise for the rest of your life.
Some cause happiness wherever they go, others whenever they go!
Foundations for fulfilment
Setting priorities
Being the best
Masters Accreditation
Following the conference, participants are required to undertake a 'work-based assignment' before the Cruise Masters Certificate is issued.

Space on Masters is limited so will be strictly allocated on a first-come, first-served basis.

'Great conference, I would certainly recommend to any consultant to attend and learn'
Jenny Fulton, RACT Travelworld
Who is the trainer?
With more than 35 years in retail travel Scott Koepf became Vice President of Sales of Avoya Travel/America's Vacation Center, one of the largest and most awarded travel companies in North America and beyond. He previously served as President of the National Association of Career Travel Agents. Prior to his role with NACTA Scott was with Sabre Holdings as General Manager of the Jurni Consortium, TMA and the country's largest host travel agency, Nexion. Scott was also a full-time motivational speaker and sales trainer and a consultant for various retail organizations and travel industry suppliers.

Scott opened a cruise travel agency in 1985 and in 1989 became President of Cruise Holidays International. Scott was responsible for taking the franchise company from 12 franchises to over 120. In 1991 he returned to owning an agency which quickly became one of the top cruise selling agencies in the country.

Scott began his career in commercial real estate but Scott's passion for travel lead him over the next few years to jobs as Entertainment Director for Club Med at various locations throughout the world, a Physical Education Teacher in South Africa and as an entertainer on cruise ships with his wife.

Scott has two college degrees from the University of Nevada in Reno including a Bachelor of Science in Marketing and a Bachelor of Arts in Music. He is still active in theatre when time permits, having won best actor awards in both Northern and Southern California . He now lives in the Fort Worth area of Texas with his wife Pam and their three daughters (who surprisingly all love travel and theatre!)

Masters Accreditation
Following the conference, participants are required to undertake a 'work-based assignment'. Upon successful completion the individual is endorsed as a Master Cruise Consultant by CLIA on behalf of the cruise industry. 100 points are added to the individual's profile and a new Cruise Masters Certificate is issued. An agency with a Master Cruise consultant employed then receives a higher ranking on the CLIA's website search.
Destination
Below is a list of historical venues and the supporting Cruise Line Member vessel.
| | | | | |
| --- | --- | --- | --- | --- |
| Year | Destination | Nights | Cruise Line member | Ship |
| 1999 | Port Arthur to Sydney | 4 | Norwegian Cruise Line | Norwegian Star |
| 1999 | Darwin to Brisbane | 5 | Royal Caribbean Int. | Legend of the Seas |
| 2000 | Great Barrier Reef | 4 | Captain Cook Cruises | Reef Endeavour |
| 2001 | Asia | 7 | Norwegian Cruise Line | Superstar Virgo |
| 2002 | Mexican Baja | 4 | Carnival Cruise Lines | Carnival Ecstasy |
| 2003 | Hawaii | 7 | Norwegian Cruise Line | Norwegian Star |
| 2004 | Eastern Mediterranean | 7 | Costa Cruises | Costa Mediterranea |
| 2005 | South Pacific | 8 | P&O Cruises | Pacific Sun |
| 2006 | Mexican Riviera | 7 | Royal Caribbean Int. | Vision of the Seas |
| 2007 | Caribbean | 7 | Carnival Cruise Lines | Carnival Valour |
| 2008 | Eastern Mediterranean | 7 | MSC Cruises | MSC Poesia |
| 2009 | Alaska | 7 | Holland America Line | Westerdam |
| 2010 | Yangtze River, China | 5 | Viking River Cruises | Viking Century Sun |
| 2011 | Darwin to Fremantle | 8 | Royal Caribbean Int | Radiance of the Seas |
| 2012 | Transatlantic Crossing | 7 | Cunard Line | Queen Mary 2 |
| 2013 | South Pacific | 8 | Carnival Cruise Lines | Carnival Spirit |
| 2014 | Mexican Riviera | 7 | Princess Cruises | Crown Princess |
| 2015 | Asia | 5 | Royal Caribbean Int | Quantum of the Seas |
| 2016 | Papua New Guinea | 7 | P&O Cruises | Pacific Eden |
| 2017 | Japan ex Hong Kong | 5 | Dream Cruises | Genting Dream |
| 2018 | South Pacific | 7 | P&O Cruises | Pacific Aria |
| 2019 | Australia | 5 | Princess Cruises | Ruby Princess |
The venue for the following year is generally announced with the intention of giving potential participants approximately 9 months notice.
Costs
As CLIA Australasia is a not-for-profit organisation, every effort is made to keep the cost of attendance to a minimum. With generous support from our Cruise Line Members and other 3rd parties, participants should budget on around AUD$1,800 per person twin share (plus airfares).
What's included / not included?
Inclusions vary each year depending on the destination but will generally cover A four to seven night cruise onboard an CLIA member cruise line; welcome cocktail function; attendance at all conference sessions conducted by CLIA Masters Trainer - Scott Koepf; Masters Conference Workbook; tea/coffee/iced water morning & afternoon tea during conference sessions; all meals on board ship; all entertainment on board ship and all port taxes and charges.
We DO NOT include return airfares (and taxes) to/from destination; arrival transfers (airport to hotel); departure transfers (pier to airport); gratuities; travel Insurance; beverages (both alcoholic and non-alcoholic at any time other than where advised ie; Welcome Cocktail function) or any other items of a personal nature.