The 2020 event is now over, but the videos are available for members in the Members Hub.
CLIA MEMBER EXCLUSIVE EVENT
Take part online for the latest insight into the future of luxury cruising
The luxury cruising sector has been among the most dynamic and innovative areas of the global cruise industry over recent years, pioneering major advances in ship design and on-shore experiences. Key luxury operators have redefined cruising in many regions of the world and created enormous opportunities for travel agent partners and luxury specialists.
CLIA Australia's Luxury Cruise Showcase will offer CLIA Members the opportunity to hear from some of the most respected brands in this sector, providing insight into how they're confronting the challenges of the post-pandemic environment and an opportunity to hear more about the exciting product developments that continue to set new standards for world cruising.
Join us for a week of exclusive online interviews as we speak with international luxury cruise brand leaders for an update on their global operations, their approach to confronting Covid-19 and their outlook for the future of luxury cruising. This will be followed by a LIVE panel session with regional directors who will provide a local perspective on how travel agents can move forward with confidence and keep selling the luxury cruise experience.
CLIA Members please select here to log in to the CLIA Members Hub to register for any of the sessions
If you are not a CLIA Member and would like to know more about Membership and how you can tune in to our exclusive Luxury Cruise Showcase sessions, please email us at info-aus@cruising.org
INTERVIEWS - Speakers and Session Times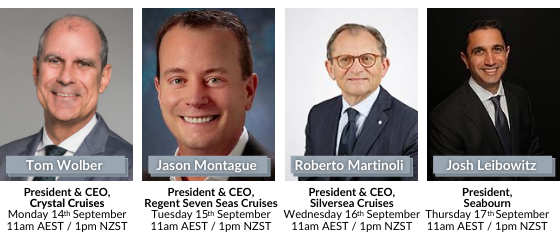 LIVE PANEL - Thursday 17th September 2pm AEST / 4pm NZST