2018 CLIA Membership
Did you know that CLIA Accredited Agents generate 15% more sales than agents without CLIA training?
As the Australasia cruise industry association, we leverage our relationships with our Cruise Line Members, Executive Partners and the travel community to provide our Travel Agency Members and Individual Agent Members with the best benefits, tools and resources to navigate the cruise industry, attract more clients and increase your sales.
CLIA Travel Agency & Individual Agent Member benefits include: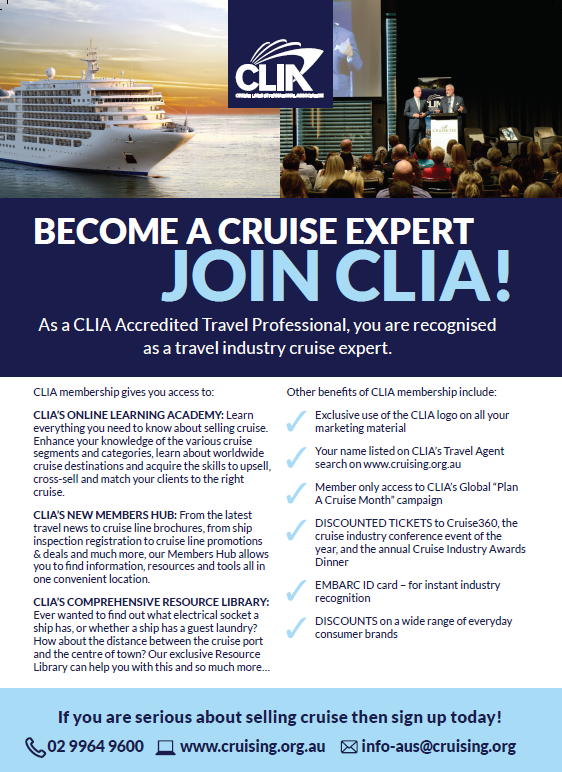 CLIA'S ONLINE LEARNING ACADEMY: Learn everything you need to know about selling cruise. Enhance your knowledge of the various cruise segments and categories, learn about worldwide cruise destinations and acquire the skills to upsell, cross-sell and match your clients to the right cruise.
CLIA'S NEW MEMBERS HUB: From the latest travel news to cruise line brochures, from ship inspection registration to cruise line promotions & deals and much more, our Members Hub allows you to find information, resources and tools all in one convenient location.
CLIA'S COMPREHENSIVE RESOURCE LIBRARY: Ever wanted to find out what electrical socket a ship has, or whether a ship has a guest laundry? How about the distance between the cruise port and the centre of town? Our exclusive Resource Library can help you with this and so much more…
Other benefits of CLIA membership include:
Exclusive use of the CLIA logo on all your marketing material
Your name listed on CLIA's Travel Agent search on www.cruising.org.au
Member only access to CLIA's Global "Plan A Cruise Month" campaign
DISCOUNTED TICKETS to Cruise360, the cruise industry conference event of the year, and the annual Cruise Industry Awards Dinner
Complimentary membership of Breakaway Travelclub, giving you access to a wide range of discounted travel products
EMBARC ID card – for instant industry recognition
DISCOUNTS on a wide range of everyday consumer brands

To renew your membership for 2018 simply log into the members area using your CLIA username and password (primary contacts only) and click on the My CLIA Renewals tab on the right hand side.