Cruise Lines International Association (CLIA) Australasia statement:
CLIA and its cruise line members are responding to evolving circumstances swiftly and in consultation with governments and health authorities internationally in relation to COVID-19. As always, the health and safety of passengers and crew is the highest priority.
As the Australian and New Zealand governments have announced, cruise ship operations in both countries have been suspended. This is in addition to the voluntary suspensions most international cruise lines had announced previously.
Provisions were made for ships that were already at sea to return to Australian ports for disembarkations, and this has taken place under direction from the Australian Border Force and state and federal health authorities.
All ships at sea in our region at the time of the suspensions have since returned to port and disembarked their guests or have left the region. No further passenger disembarkations are scheduled in Australia or New Zealand.
Passengers who returned to Australia from international cruise itineraries have been required to self-isolate under measures announced by the Australian Government.
A number of out-of-service ships remain in the region either at berth or at anchor. Cruise lines are now focused on arrangements to repatriate crew to their homes and families, and on preparing their ships to be laid up with skeleton crew while they are out of service.
This is an unprecedented situation and we are conscious not only of the impact upon guests and crew, but also on the destinations that cruise lines serve and the many businesses that depend upon cruise tourism. Despite challenging times, we are confident our industry has the resilience to overcome this situation in the longer term.
Additional Information:
At times, out-of-service ships may periodically move between an anchorage and berth to ensure that their technical services continue and are maintained in working order. This may include functions such as refuelling and the supply of provisions, but does not involve disembarkation of passengers.
Crew welfare is a key priority for cruise lines, particularly when crew are far from their homes and families in challenging times. All crew continue to be provided for, and on-board medical services are available to monitor and manage crew health. Any crew illness would be reported and managed in consultation with state health authorities.
All passengers who travelled on CLIA cruise line vessels prior to the suspension of operations were subject to the enhanced screening measures and boarding restrictions that had been enacted globally in response to COVID-19 since January 31 and elevated in February and March.
Cruise lines have worked closely with health authorities internationally throughout the COVID-19 outbreak, including with the World Health Organization, the Australian Department of Health and the New Zealand Ministry of Health. CLIA and cruise lines continue to consult with health authorities and government agencies to respond to their requirements and to act upon new developments.
Cruise lines have spent decades investing and building tourism in Australia and New Zealand. Many communities in regional areas and South Pacific nations rely upon cruise tourism as a valuable source of income and employment. In Australia, the cruise industry contributes more than $5 billion a year to the national economy and supports more than 18,000 jobs across the country.
Cruise lines make a substantial contribution to state and national government revenues through various taxes and fees, and help support other businesses throughout the economy including ports and destinations, local tourism operators, hotels, travel agents, food and beverage suppliers, equipment providers and other supply chain businesses.
Travellers with bookings on cruises affected by current suspensions are advised to contact their cruise line or travel agent regarding refunds, credits and other options.
While we acknowledge these suspensions will cause inconvenience and disappointment to many, cruise lines are working around the clock to maintain a focus on the health and safety of passengers and crew.
Useful links:
Australian Government Department of Health
Australian Government's Smartraveller website
New Zealand Ministry of Health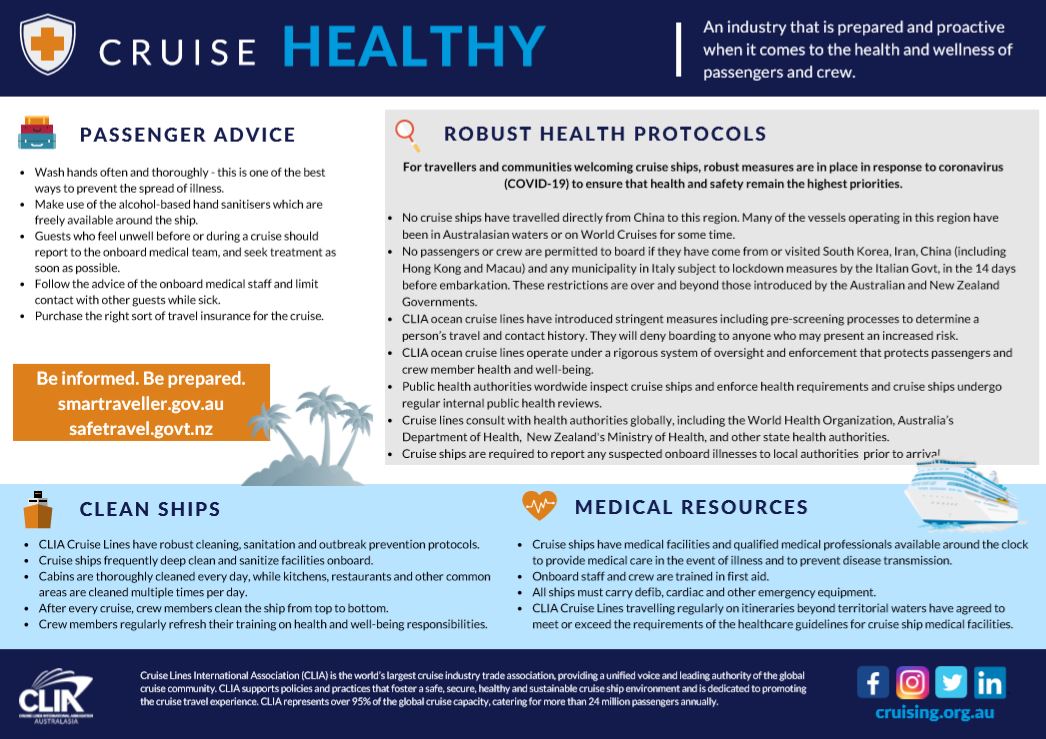 | | |
| --- | --- |
| 100% of CLIA ocean cruise line ships are required to have medical facilities with highly trained medical professionals and doctors available 24/7 | Passengers and crew on CLIA cruise line ships are carefully screened before they board |
| 100% of CLIA ocean cruise lines are employing enhanced screenings to ensure the safety and well-being of passengers and crew | The health and safety of guests and crew is always the number 1 priority for CLIA cruise lines |